Welcome
to my private Homepage "under construction"

CONTACT: robert.eibl(at)alumni.dkfz.de

- Heidelberg/Mannheim, Zürich (Switzerland), Karlsruhe, Stanford/Palo Alto (U.S.A.), München, Mainz, Miami (U.S.A.) -

NEWS -
January 2019:
SUBMITTED phase 2 (of 3): Science4Life (Business plan competition)
New scientific manuscript (mainly supported by HORIZON 2020, the biggest, i.e. 80 billion EUR project of the EU) is ready for submission to first class journal (24 intl. authors, 39 pages) - I am just a co-author, i.e. not first or last author, but I am very honored having been invited to contribute.
I just missed by just one single vote (!) the inclusion in the management board (and the possibility to become director) of the DKFZ Alumni Association, which was founded by Nobel prize winner Harald zur Hausen. I hope the Alumni e.V. will not be taken down.
October - December, 2018

pitch presentation, Uni Heidelberg, Dec. 18th, 2018: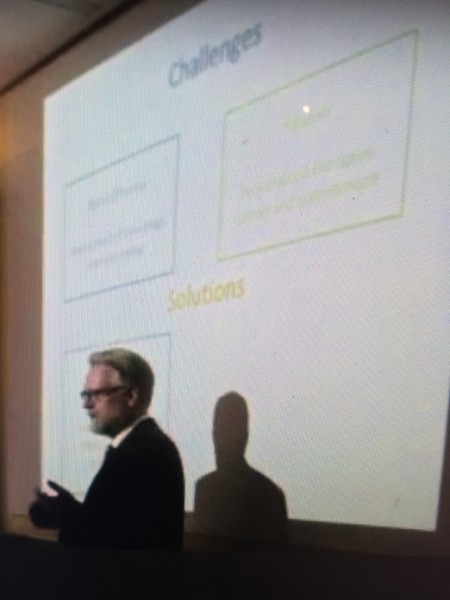 TEAM LEADER - with my pioneering, own "biotech-nanotech" project at the biotech entrepreneurschip course at the University of Heidelberg.
BACKGROUND. my book chapter (link - click here)
We are in excellent progress of preparing a university presentation for december for a biotech startup.
I/we would be happy about
- an investor with 1-4 Million EUR (seed money)

- access to some AFM (Atomic Force Microscope, custom-made OK, with only z-axis for force measurements; x-, y-axis not needed)
- cell culture lab (or fpart of a cell incubator to keep 3 mouse cell lines for for reference testing (lowest biosafety-level OK)
- after starting period to setup the system: access to cell culture lab to test also human blood samples, preferentially a University or clinical lab and very fresh blood samples from volounteers and patients

BTW, I once was placed 1st (!) in the final photo-video-composition of originally 39.000 participants in a Stanford online course on creativity... (offered by Prof. Tina Seelig) - I was the team lead of 14 from 11 countries all around the world - of course we all faced the challenge of having different ideas, views and, of course, the many different time zones - but nobody left my team :-)
Congratulations to the NOBEL PRIZE WINNER: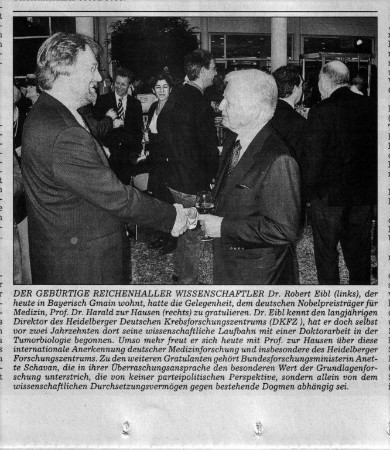 (invited Dr. Eibl congratulates Prof. Harald zur Hausen for his Nobel prize)
October 2018

NOBEL PRIZE in medicine goes to James P. Allison
I was invited last year by the big MD Anderson cancer research center (USA) to join a conference in London: "Accelerating Cancer Immunotherapy" - I was very impressed by the talk of the future Nobel prize winner 2018 - who is from the MD Anderson center.

1-10 million EUR seed money or venture capital needed in Heidelberg, GERMANY (or in Palo Alto, USA or Munich). INVESTORS for biotech-/nanotech (AFM, medical or cancer research) for founding of a startup company are more than welcome !
I currently like to continue MY OWN, pioniered FIELD between Medicine, Physics, Cancer Research and Immunology, which I had pioniered in Munich and Miami earlier - but my projects were partly overtaken: Pharmacological (!!!) force changes with Atomic Force Microscopy (AFM) on a living cell at the level of single pairs of receptord and their induction, desensitization ...
---
September 16-19, 2018: STEM CELLS AND CANCER

someone said: "one of the premier meetings in this field"
I presented and published my abstract at the "10th International Behr-Symposium" at the German Cancer Research Center (Deutsches Krebsforschungszentrum, DKFZ Heidelberg):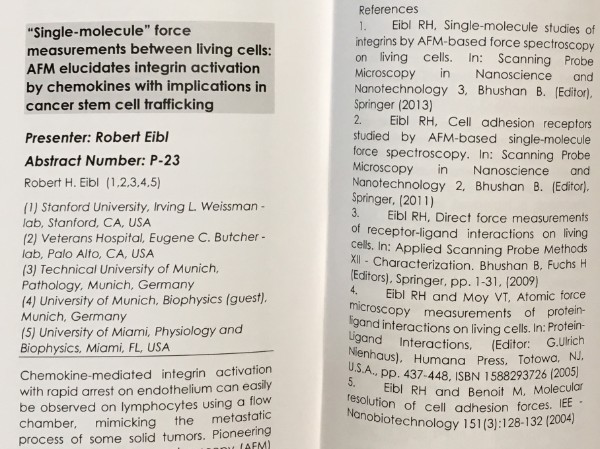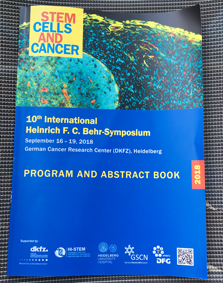 photos from abstract book - full text below: (also click here)

"Single-molecule" force measurements between living cells: AFM elucidates integrin activation by chemokines with implications in cancer stem cell trafficking
Robert H. Eibl (1,2,3,4,5)
(1) Stanford University, Irving L. Weissman - lab, Stanford, CA, USA
(2) Veterans Hospital, Eugene C. Butcher - lab, Palo Alto, CA, USA
(3) Technical University of Munich, Pathology, Munich, Germany
(4) University of Munich, Biophysics (guest), Munich, Germany
(5) University of Miami, Physiology and Biophysics, Miami, FL, USA
Chemokine-mediated integrin activation with rapid arrest on endothelium can easily be observed on lymphocytes using a flow chamber, mimicking the metastatic process of some solid tumors. Pioneering work with atomic force microscopy (AFM) resolved this adhesion at the so-called "single-molecule" (better: single-receptor) level between two living cells. The author became the very first to 1) further elucidate his independent metastasis model of rolling B16 melanoma cells (work at Stanford Univ.) to molecular resolution, i.e. measuring the molecular forces of individual VLA-4/VCAM-1 adhesion receptors between two living cells (work universities in Munich and Miami); 2) to detect similar, "specific" adhesion events between living lymphoma and either endothelial cells, or immobilized VCAM-1 fusion protein, respectively; and 3) to detect with his system the immediate activation of VLA-4 integrin receptors by a chemokine (CXCL12/SDF-1) at the single-molecule level and at the same time on an intact living cell. This very unique tool of measuring the activation state of metastasis-supporting cell adhesion receptors, as well as metastasis inhibiting repellent molecules will be evaluated for its use in the clinical management of metastatic solid tumors and leukemias.
References

1. Eibl RH, Single-molecule studies of integrins by AFM-based force spectroscopy on living cells. In: Scanning Probe Microscopy in Nanoscience and Nanotechnology 3, Bhushan B. (Editor), Springer (2013)
2. Eibl RH, Cell adhesion receptors studied by AFM-based single-molecule force spectroscopy. In: Scanning Probe Microscopy in Nanoscience and Nanotechnology 2, Bhushan B. (Editor), Springer, (2011)
3. Eibl RH, Direct force measurements of receptor-ligand interactions on living cells. In: Applied Scanning Probe Methods XII - Characterization. Bhushan B, Fuchs H (Editors), Springer, pp. 1-31, (2009)
4. Eibl RH and Moy VT, Atomic force microscopy measurements of protein-ligand interactions on living cells. In: Protein-Ligand Interactions, (Editor: G.Ulrich Nienhaus), Humana Press, Totowa, NJ, U.S.A., pp. 437-448, ISBN 1588293726 (2005)
5. Eibl RH and Benoit M, Molecular resolution of cell adhesion forces. IEE - Nanobiotechnology 151(3):128-132 (2004)
---
EXTINCT now in the USA : Miami Blue
Some of the WORLD's biggest Professors confirm (incl. a NOBEL PRIZE candidate, a official NOBEL PRIZE equivalent WINNER, and a director emeritus of the cancer research center of the World Health Organization, WHO).
BTW, I was awarded a stipend for Harvard University, with which I published my highly recognized papers on brain tumors. I started an identical stipend (salary) for two years as scientist later for Stanford University; at Stanford I also got a "Dean's fellowship"; I was also a volountary conflict counselor and mentor for colleagues (as part of the SUPD organization) in all cases relating to work environment, potential harassment, supervisors, pubulication conflicts, or anything related to potential conflicts - I think I helped with some support with a colleague to avoid a conflict and the person became later professor in Germany.

1) " I beleive that he [Robert Eibl] is extremely good "
Irving "Irv" Weissman, Stanford University - a Nobel Prize candidate 2018 (for his cancer stem cell theory)
My anecdote with "Irv":
Irv really is the smartest professor I ever met: at a Stanford meeting in Asilomar, I showed him my scientific poster and he understood within seconds --- as the only person ever --- my paradoxical findings, although they appeared to be quite the opposite of his findings published in "Cell"; a few weeks later - I needed another, official sponsor at Stanford - and after 10 min of the real interview, he gave me his OK that he would serve as my official sponsor at Stanford, although a few miles away from my workplace where I could continue to work as a guest scientist in Eugene Butcher's lab where I already had established my experimental nobel prize setup; then, Irv gave me about a one hour lecture on 50 years of research in my field - and how my findings may contribute to something in cell migration still totally unsolved, but which was his probably first Nature paper.
2) " Like Irv, I feel his [Robert's] record of independence ... "
Eugene "Gene" Butcher, Stanford University - Crafoord prize / official Nobel equivalent winner 2004, (prize shared with Tim Springer/Harvard University; for his multi-step model of lymphocyte rolling and arrest, which I compared in Eugene's lab with organ-specific tumor metastasis - ironically, Eugene appeared to be interested originally in metastasis before he became such a successfull immunologist) - and one of Irv Weissman's most famous former students.
3) " I can fully recommend Dr. Robert Eibl "
Paul Kleihues, Director Emeritus, I.A.R.C. (International Agency for Research on Cancer, World Health Organization/WHO, Lyon/France) - and former Medical Dean, Zürich/Switzerland, (WHO classification of Brain Tumors)

(to see more of these references, please scroll down to: "4 Academic References")
NEWS
September 8, 2018
There were several rather large bats flying around at midnight just at one of many identical lanterns of the street, but not at all the others, don't know why just this one, don't see many insects flying around ; since weeks I observe many, rather small bats around my balcony and windows.
August, 2018
After only almost 40 years, I found another, extremely rare, almost extinct, but huge moth in the Palatinate, where I live, called "Blaues Ordensband".
May 13, 2018: video of large black snake in German forest (click here)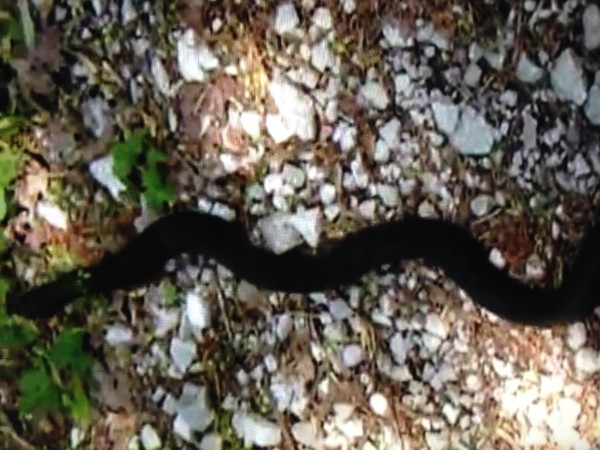 May 14, 2018: my 1st sighting ever in Germany of, perhaps, the rarest, or at least a very rare butterfly (<- link to VIDEO, 8x slow motion), Iphiclides podalirius (Segelfalter) - I know those only from Spain/France.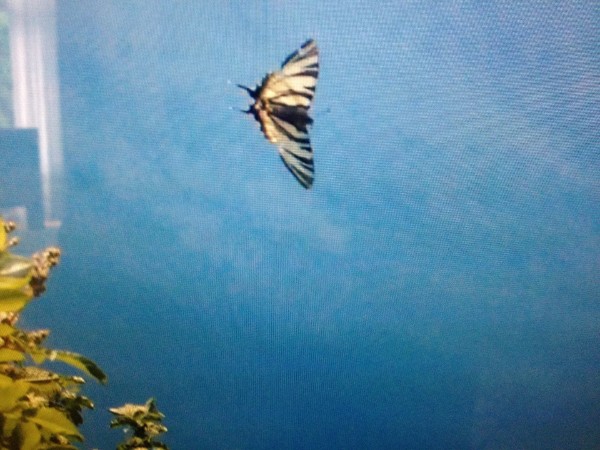 My biggest success in science, I like to call it: "honor" - or should I call it an ongoing odyssey:
I developed my confidential project over years with no funding - then it was overtaken by collaborators:
A famous German professor of chemistry once directed one of his former PhD students to overtake my obviously Nobel-like projects in a biophysics lab. Before that, he happily shared two of his chemical compounds with me, which totally failed in his research setup (i.e. no good inhibitor, not patented). I also gave a lecture for his students, and he wrote -as he stated- a maximal supporting letter for my large grant application in the USA. I didn't become professor in the USA and to my surprise my projects and collaboration with Israel were overtaken in Munich - after I had shared confidential results from my former work at Stanford University and after I had invested three unpaid years in developing my setup and even initiating over years the collaboration with a former postdoc from another Nobel equivalent winners lab at Harvard.
Winning ceremony in Germany's largest regional (Munich) business plan competition (many years ago; I am on the right):
I won the first prize with about 500 EUR and a long, founders' weekend at Castle Elmau, Bavaria (were many years later the G7 summit took place); Later, I won again -as Nominee- the founders' weekend at Castle Elmau).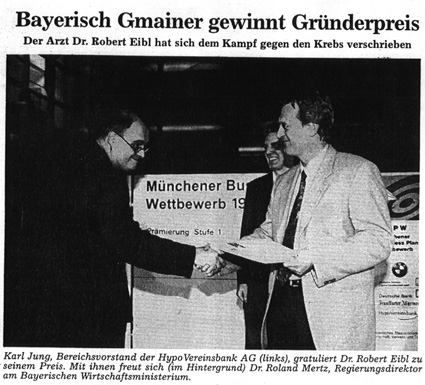 I am not sure if there really were 2.000 people celebrating the only ten winning teams of around 250 teams in the Hypovereinsbank building in Munich - I wasn't really told before that I would win !!! They only called earlier the day, if I would come to the announcement, so I was so happy that a busy friend was able to join me, she meanwhile got the Order of merit of Germany (Bundesverdienstkreuz).
Later, I got an offer for a start-up incubator with two free office rooms, incl. phone/fax lines for a few months; in addition I may have gotten 500.000 EUR seed capital and/or three half-day technicians for a year - but with commercial AFMs in a range of above 200.000 EUR I decided that I had no sufficient funds to start this endeavour and be successfull to get real funding fast - I think today, I was right, even another Munich startup from that round failed later although they published in Science (perhaps, they were also very science oriented and with no product or exit strategy).
More recently, I succeeded to be among the TOP20 in another German business plan competition: I presented within the "Technology SLAM" of "Science4Life" in the huge Lobby of the KfW (Kreditanstalt für Wiederaufbau) bank (I guess second biggest in the wolrd) in Frankfurt/M. in front of about 600 interested people, potential investors, patent lawers and colleagues - but my presentation was probably too funny (business suit, Stanford tie and a snowboard helmet with air filled gloves on my head - the hands were simulating activateable "adhesion receptors" of a migrating leukocyte or metastatic cell in the blood stream).
"A Nobel prize won't be that easy": to the best of my knowledge, I am the first who designed and performed the experiments with an atomic force microscope (AFM) to measure "specifically" the modulation of any cell adhesion receptors by any chemokine within the context of a living cell - and at the same time - at the (so-called) single-molecule level.
I would be more than happy to continue these, i.e. my, Nobel prize - experiments, anytime, anywhere.
Although not the Nobel prize, yet:
I got the FIRST PRIZE for my 20 min presentation: integrin alpha4beta1/VCAM-1/SDF-1 on living cells and at the single-molecule level (awarding committee: Prof. Garry Fathman, Stanford Univ. and Prof. Peter Bannasch, Heidelberg).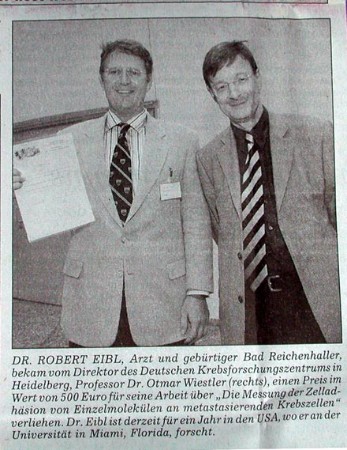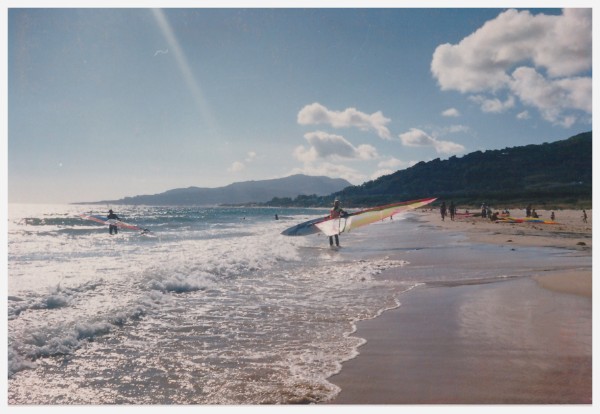 OLD pic: windsurfing remains my only favourite sport - well, I replaced it only partly with snowboarding.
Here a pic with my "sinker" windsurfing board - I made it through 9 Beaufort another day (just below hurricane!), was nice to meet the two world champions there, Robby Naish and his successor; just west of Gibraltar (the wind capital: Tarifa, Spain)
At that time, my parents run a watersport school an hour away near Marbella, Spain; so I also learned scuba diving (up to "rescue diver" certificate) and sailing (incl. catamaran; all major German certificates), but I still like windsurfing the most - (since there never is enough wind in Germany and sunshine at the same time, my premium board is for sale now: 80 L Alpha, 30 y.o., technically like new, asking 200 EUR).
4 Academic References
(only from the "big shots"/Nobel equivalent and similar leaders)
Here are four selected citations from Letters Of Recommendation: this should easily document how long I developped my independent work on VLA-4 (as well as VCAM-1 and SDF-1) - basically since my time at Stanford University. I later also visited biophysics labs in Munich and Miami, where I shared my privileged results to those labs and continued my project on my own ideas - to what I think, should be the beginning of a Nobel prize. Unfortunately, others were allowed to continue my projects and I didn't get the expected funding in Miami to become professor as expected.
Irving L. Weissman
(Stanford University, hematopoetic and cancer stem cell pioneer - or should I say the "Albert Einstein" in stem cell biology? in my view, a clear Nobel candidate, who later accepted to become my official sponsor at Stanford, although he allowed me to work on and continue my own project; he wrote about me):
"Robert Eibl came to me ... with a very fascinating finding - he showed a role of integrin alpha4beta1 [=VLA-4] using the adhesion process of experimental metastatic melanoma cells.... I happily agreed ... and have been delighted to watch him develop the project ... to an important set of publishable findings. ... articulate and intelligent scientist. ... I beleive that he is extremely good, and ready to enter ... a beginning research position...."
(Unfortunatele, the German Research Council, DFG, did not found a second year in this famous lab - I may have had the Nobel by now, since I was searching for the first metastatic cell in tumors; but the DFG originally supported me to get my Harvard stipend, and after I couldn't start it within a year, the DFG allowed me to write a similar grant for Stanford University to get into Eugene Butcher's lab - although he never became my official sponsor).
Eugene C. Butcher
(official Nobel equivalent/Crafoord prize winner, Stanford University):
".... Robert initiated and independently carried out studies of CD44 and also a4 integrin involvement in metastatic melanoma cell interactions with vascular endothelium under shear, revealing a critical role for a4b1 [=VLA-4] in particular. Irv Weissman, ... feels that Robert's observations represent a significant contribution to the field. Moreover, these studies were pursued with remarkable independence by Robert. ... he clearly has the potential to contribute to our understanding of the metastatic process. Like Irv, I feel his record of independence make him ready for ... independent research position...."
Paul Kleihues
(Director Emeritus IARC / WHO cancer research center):
"... He was able to rapidly acquire new laboratory techniques and exhibeted an unusual depth of conceptual thinking. ... A total of 11 publications resulted from his work in our laboratory... I can fully recommend Dr. Robert Eibl for a position in basic medical research..."
(Too bad that, when I was young, I didn't want to be promoted to full professor in his field of neuropathology - I accidentally started after med school in his lab in Zürich, Switzerland, although I never liked neither pathology nor neurology (my doctorate thesis was already finished in molecular cloning), and I never heard before about neuropathology. Unfortunately, Germans laws on getting the final license needed to work in a medical field for 18 months... so I choose an environment with some research lab - and accepted low payment).
Heinz Höfler
(DirectorEmeritus Pathology / Technical University of Munich):
" .... his newest and very fascinating set of findings use atomic-force microscopy to detect adhesion between two living cells on the level of single-molecules. This clearly is pioneering work and supports his view of tumor metastasis... I can recommend Dr. Eibl as a highly motivated researcher able to develop independent and important contributions to any field of his choice. ..."

--------------------------------